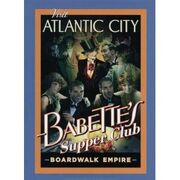 Babette's Supper Club
, run by
Babette
, is a restaurant, bar and casino in
Atlantic City
,
New Jersey
. It is based on a historical business of the same name.
Atlantic County Treasurer
Nucky Thompson
is a regular customer and the business also pays protection money to
his organization
. On
January 16 1920
Nucky hosts a party there to celebrate the introduction of
prohibition
. Babette's (like most of Atlantic City) continues to serve alcohol after prohibition with protection from Nucky. ("
Boardwalk Empire
")
Nucky also hosts his birthday party there later in 1920 which includes an appearance by the singer Edith Day. ("Anastasia")
World Heavyweight Boxing Champion Jack Dempsey makes a promotional appearance at Babette's in June 1921. During Dempsey's speech an attempted assassination of Nucky by Vito Scalercio results in Nucky being shot in his right hand. Scalercio is killed by Federal Agent Clifford Lathrop before he can finish the job. ("Peg of Old")
When Nucky announces his retirement in late June 1921 his rival Jimmy Darmody hosts a victory party at Babette's. Jimmy becomes infamous for throwing Mickey Doyle over the balcony at the party. ("Battle of the Century") Nevertheless Babette continues to buy whiskey from Nucky when he arranges to import it directly from Ireland. ("Georgia Peaches")