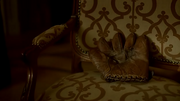 A baseball glove signed by Hardy Richardson was a prized possession of Nucky Thompson when he was a child growing up in the 1880s.
The glove was stolen by four older boys. When Nucky informed his father, Ethan Thompson, he made Nucky confront them and they beat up him so badly that he was put in a hospital or 11 days. ("Home")
Nucky, Margaret, Harry Prince and Annabelle visit a Northside speakeasy owned by Chalky White in May 1920. Margaret jokes that Nucky's only two subjects for a conversation are business and politics, and Annabelle replies that they are Harry's too. Harry responds that he also likes talk about baseball. Impulsed by this, Nucky mentions his old signed glove and calls it his prized possession. After Annabelle and Harry leave to dance, Margaret asks Nucky what happened to the glove and he says that it was stolen. Margaret asks how and he says that a group of older kids beat him up and take it away. Margaret asks if he was hurt and Nucky commandsher to not make more questions because he doesn't like the subject. It's not until later, when they visit Nucky's childhood home, that Margaret convinces Nucky to tell her the whole story and Ethan's role in it. ("Home")
The glove appears in two nightmares that Nucky experiences after being shot in June 1921, "sitting" on a chair along with a group of strangers in Nucky's Ritz Carlton suit. The exact position of the glove varies on each nightmare. ("Two Boats and a Lifeguard")
Season two appearances
21
Ourselves Alone
A Dangerous Maid
What Does the Bee Do?
Gimcrack & Bunkum
The Age of Reason
Peg of Old
Two Boats and a Lifeguard
Battle of the Century
Georgia Peaches
Under God's Power She Flourishes
To the Lost
Community content is available under
CC-BY-SA
unless otherwise noted.