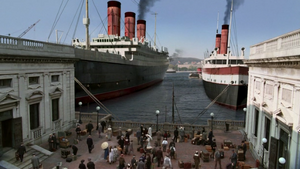 Belfast
is a city in
Ireland
.
Irish Republican Army
leader and
Sinn Fein
politician
John McGarrigle
lives in Belfast.
Nucky Thompson
visits Belfast in the episode "
Battle of the Century
".
Organizations
Edit
Although the county borough of Belfast was created when it was granted city status by Queen Victoria in 1888, the city continues to be viewed as straddling County Antrim and County Down.
The site of Belfast has been occupied since the Bronze Age. The Giant's Ring, a 5,000-year-old henge, is located near the city, and the remains of Iron Age hill forts can still be seen in the surrounding hills. Belfast remained a small settlement of little importance during the Middle Ages. John de Courcy built a castle on what is now Castle Street in the city centre in the 12th century, but this was on a lesser scale and not as strategically important as Carrickfergus Castle to the north, which was built by de Courcy in 1177. The O'Neill clan had a presence in the area. In the 14th century, Clan Aedh Buidh, descendants of Hugh O'Neill built Grey Castle at Castlereagh, now in the east of the city. Conn O'Neill also owned land in the area, one remaining link being the Conn's Water river flowing through east Belfast.
Belfast became a substantial settlement in the 17th century after being established as a town by Sir Arthur Chichester, which was initially settled by Protestant English and Scottish migrants at the time of the Plantation of Ulster. (Belfast and County Antrim, however, did not form part of this particular Plantation scheme as they were privately colonised.) In 1791, the Society of United Irishmen was founded in Belfast, after Henry Joy McCracken and other prominent Presbyterians from the city invited Theobald Wolfe Tone and Thomas Russell to a meeting, after having read Tone's "Argument on Behalf of the Catholics of Ireland". Evidence of this period of Belfast's growth can still be seen in the oldest areas of the city, known as the Entries. Belfast blossomed as a commercial and industrial centre in the 18th and 19th centuries and became Ireland's pre-eminent industrial city. Industries thrived, including linen, rope-making, tobacco, heavy engineering and shipbuilding, and at the end of the 19th century, Belfast briefly overtook Dublin the largest city in Ireland. The Harland and Wolff shipyards became one of the largest shipbuilders in the world, employing up to 35,000 workers. In 1886 the city suffered intense riots over the issue of home rule, which had divided the city.
Belfast became the capital of the new entity of Northern Ireland as the island of Ireland was partitioned by the Government of Ireland Act, 1920.
Community content is available under
CC-BY-SA
unless otherwise noted.