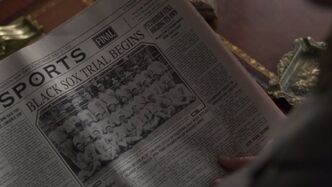 The Black Sox Scandal took place around and during the play of the American baseball 1919 World Series. Eight members of the Chicago White Sox were put on trial for intentionally losing games, which allowed the Cincinnati Reds to win the World Series. The trial began on July 18 1921 and Nucky Thompson reads about it in the newspaper the following day. The conspiracy was the brainchild of White Sox first baseman Arnold "Chick" Gandil, who had longstanding ties to petty underworld figures. He persuaded Joseph "Sport" Sullivan, a friend and professional gambler, that the fix could be pulled off. New York gangster Arnold Rothstein supplied the money to pay the players through his lieutenant Abe Attell, a former featherweight boxing champion. Rothstein was never charged for his involvement in the fix although it was widely reported in the papers. Rothstein reportedly made millions of dollars betting on the fixed series.
Gandil enlisted several of his teammates, motivated by a dislike of club owner Charles Comiskey whom they perceived as a tightwad, to implement the fix; Comiskey had developed a reputation for underpaying his players for years (under the Major League Baseball reserve clause, players either had to take the salary they were offered, or couldn't play Major League Baseball, as they were property of the original team, and no other team was allowed to sign them). All of them were members of a faction on the team that resented the more strait-laced players on the squad, such as second baseman Eddie Collins, a graduate of Columbia College of Columbia University, catcher Ray Schalk, and pitcher Red Faber. By most contemporary accounts, the two factions almost never spoke to each other on or off the field, and the only thing they had in common was a resentment of Comiskey.
Starting pitchers Eddie Cicotte and Claude "Lefty" Williams, outfielder Oscar "Happy" Felsch, and shortstop Charles "Swede" Risberg were all principally involved with Gandil. Third baseman Buck Weaver was also asked to participate, but refused. Weaver was later banned with the others for knowing of the fix but not reporting it. Although he hardly played in the series, utility infielder Fred McMullin got word of the fix and threatened to report the others unless he was in on the payoff. As a small coincidence, McMullin was a former teammate of "Sleepy Bill" Burns, who had a minor role in the fix. Both played for the Los Angeles Angels of the Pacific Coast League. Star outfielder "Shoeless" Joe Jackson was also mentioned as a participant, though his involvement is disputed.
External links
[
]