Jurassic World: Dominion Dominates Fandom Wikis - The Loop
Play Sound
"Blue Bell Boy" is the fourth episode of the third season, and the 28th episode of Boardwalk Empire overall. It was written by Supervising Producer David Stenn and helmed by new director Kari Skogland. It premiered on 7 October 2012.
Nucky Thompson orders his bootleggers to avoid Tabor Heights and restarts the search for Rowland Smith, annoyed that his crew are looking to Owen Sleater for leadership. They track Smith to his hideout but are trapped there with him when corrupt Philadelphia Prohibition Agents raid the place. As they hide in the basement, Smith tries to charm Nucky into giving him a job. When the feds leave Nucky kills Smith himself, reestablishing his power for Owen. Mickey Doyle is desperate to supply Arnold Rothstein and ignores Nucky's order over Eli Thompson's protests. Eli scouts ahead and realizes that an ambush is being set-up in Tabor Heights but is unable to spare the convoy. Margaret Thompson begins advertising the women's clinic. Lucky Luciano is summoned to negotiate with Joe Masseria. Al Capone faces his son being bullied at school and murders Joe Miller after Miller attacks Jake Guzik.
Plot
[
]
Official Synopsis
[
]
After tracking down a liquor thief, Nucky and Owen end up spending a long night hiding out from the Feds with the precocious perp. In his boss's absence, and with Rothstein fuming over a late delivery, Mickey overrules Eli to make a routing call that will have far-reaching consequences for Nucky and Gyp. Margaret encounters a familiar face while promoting Dr. Mason's classes at the new woman's clinic at St. Theresa's. In New York, Lucky haggles with Joe Masseria over heroin splits, while in Chicago, Capone's feud with O'Banion heats up when one of his collectors gets roughed up on the South side. (Showtime Australia)
Summary
[
]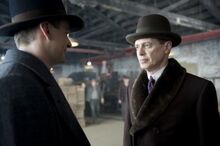 Nucky Thompson calls for Owen Sleater while he is having sex with Katy. He summons Owen. Owen tells Katy that Nucky is in a bad mood again and she encourages him not to hurry. Nucky assembles his men at Mickey Doyle's warehouse and orders them to avoid Gyp Rosetti's blockade of Tabor Heights and use backroads through the Pine Barrens to transport liquor to New York. Mickey is dubious given that the dirt roads will be icy until the Spring and looks to Owen for clarification. Nucky is furious at his authority being challenged. He reasserts the order and ends the meeting. He then questions Owen about the thief Rowland Smith. Owen admits that he has not looked for him since Manny Horvitz died and Nucky insists he restart the search, suggesting that he use Prohibition Agent Stan Sawicki. Eli tries to speak to Nucky about getting more responsibility and pay but Nucky tells him that merely letting him go to prison was the last favor he is willing to do him.
Owen has Sawicki meet them at Smith's reported hideout. Sawicki got the address from a contact in the Philadelphia branch. They find the backwoods house filled with crates of liquor; their own and other bootleggers. Nucky leaves Owen and one of his men to wait for Smith. They ambush him when he returns to the house. They are surprised by how young he is. Owen calls Nucky for further guidance.
Nucky drives out to question Smith. While they are at the house it is raided by Philadelphia Prohibition Agents. They kill Owen's man and Nucky's bodyguard when they find them outside. Nucky, Owen, and Smith hide in the basement while the agents search the house. They are trapped there for more than a day as the agents wait for Smith. The prohibition agents clear the building of liquor, loading it into their vehicles. The boy claims that he is not quite sixteen and tries to charm Nucky into giving him a job.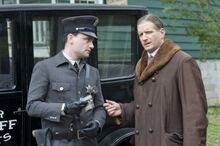 Eli drives Mickey out to Tabor Heights to quiz the new Sheriff, Ramsey. Mickey asks what is being done about the murder of Sheriff Sickles. He assures them that he will take care of Rosetti. Satisfied, Mickey plans to go against Nucky's orders despite Eli's reservations. He gets an angry phone call from Arnold Rothstein asking for his shipment which solidifies his conviction. He tells his men not to stop for anything except fuel in Tabor Heights.
Suspecting that Rosetti might be setting a trap, Eli decides to drive up to Tabor Heights ahead of the convoy to check things out. When he gets there, he notices that Rosetti has Ramsey's loyalty, and Rosetti's men are getting into positions. He tries to warn the approaching convoy of the ambush, but the drivers blow past him. Eli can only listen as the trucks drive straight into the ambush and are gunned down by Gyp's men. Gyp's people strip the bodies and plan to dump them in a mass grave. As they oversee the exchange, Gyp himself is more concerned with deciding which of the town's waitresses to bed.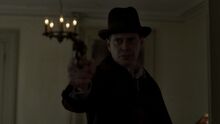 When the agents eventually leave Nucky, Owen, and Smith emerge from the basement. Nucky offers Smith a cigarette and then shoots him in the back of the head. Owen is shocked by the unexpected murder and Nucky uses it as a lesson that he is to be respected and feared. Nucky returns to Atlantic City and Eli comes to find him to tell him what has happened.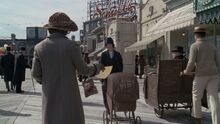 Margaret Thompson faces resistance from the nuns of St. Theresa's Hospital to her new prenatal care classes. Sister Agnes goes through a lesson plan redacting "infelicitous" language despite its scientific basis. Margaret and Dr. Douglas Mason try to maintain an understandable lexicon for the sake of the students. She canvasses the boardwalk for potential students and runs in to Edwina Shearer. Mrs. Shearer says that she already knows what she needs to and declines to attend. When she gets home Margaret reads in the paper that the wreckage of Carrie Duncan's plane has been discovered.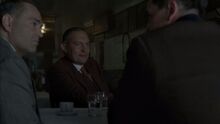 Lucky Luciano is summoned to meet Joe Masseria. Meyer Lansky prepares Luciano for the meeting, suggesting they offer a 2% tribute and negotiate to 5%. Masseria demands a 30% share of Luciano's heroin distribution profits in exchange for allowing Luciano to operate in his territory. Masseria warns Luciano against trusting his Jewish partners because they are not his people.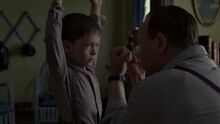 Al Capone readies for his day and notices that his son, Sonny, has a bruise on his face. Mae tells Al that it happened at school and that Sonny is being bullied by a new boy. Al rails against the bully attacking someone who is practically deaf and Mae reminds him that it is a special school and all the students are. Al arrives for work at the Four Deuces brothel and is disgusted to receive a handful of sticky cash from Jake Guzik. He criticizes Guzik's unkempt appearance and urges him to take better care of himself. That evening Al tries to teach Sonny to defend himself but scares the boy to tears. He embraces his son, apologizing for upsetting him.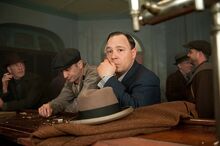 Dean O'Banion's man Joe Miller assaults Guzik when he is making his collections. Miller mocks Guzik's appearance and body odor as he beats him in front of a crowded bar. Guzik returns to the Deuces and tells Al what happened. Al goes out to find Miller and beats him to death. He then goes home to Sonny and play him a song on the mandolin, putting the boys hand on his throat so he can feel the vibrations of his singing.
Recap
[
]
Appearances
[
]
First appearances
[
]
The following named, recurring characters are introduced in this episode:
Roberta, a waitress in Tabor Heights, New Jersey.
Deaths
[
]
Production
[
]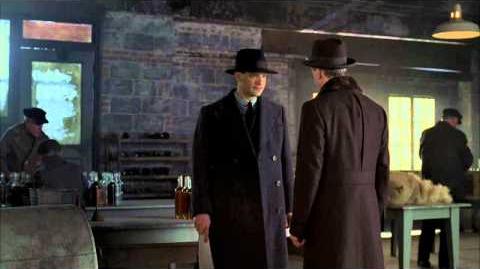 Cast
[
]
Starring

[

]

Guest Starring

[

]
Co-Starring
[
]
Uncredited
[
]
Jen Ryan

as a Deuce's prostitute
Crew
[
]
Music
[
]
Peter Yarin

- "Louiseville Lou" plays as Jake Guzik organizes collection money and Capone comments on his personal hygiene.

Paul Whiteman

& His Orchestra - "Three O'Clock In The Morning" plays as Gyp runs through his new operation as Ramsey and firemen eye him up from outside.

Louisanna Hot Five

- "Yelping Hound Blues" plays as Joe Miller picks a fight with Guzik.

Ben Bernie

& His Orchestra - "Swingin' Down The Lane" plays as Lansky preps Luciano for the Masseria meeting.

Carousel Band Organ

- "Dream Daddy": Mrs. Shearer refuses information from Margaret about the women's health class.

Gypsy Queen

- "Old McDonald Had A Farm": plays as Mrs. Shearer refuses information from Margaret about the women's health class.

Isham Jones

& His Orchestra - "My Honey's Loving Arms" plays as Capone beats Joe Miller to a pulp.

Peter Jarvis

- "Surveying Carnage Score" plays as Gyp's thugs pull out dead drivers and take control of the bullet riddled trucks.
Stephen Graham - "My Buddy" played and sung by Al Capone while waking his son up so he can sing to him, putting Sonny's hand on his throat so he can feel the vibration of his voice.

Henry Burr

- "My Buddy" played as end credits.
Marketing
[
]
Gallery
[
]
Videos
[
]
Reception
[
]
The episode drew 2.11 million US viewers.[1] Critics praised the insight into the softer side of the Al Capone character and the acting of Stephen Graham.[2][3][4][5][6][7] Noel Murray of the AV club said that it was the most powerful episode of the series so far.[6] Michelle Rafferty of Paste Magazine praised the episodes pacing, saying that it was a patient build up to a frenetic and rewarding last act.[3] Alan Sepinwall felt that the episode had a unifying leadership theme but was ultimately repetitive and unsatisfying.[7]
David Wangberg of the Examiner.com criticized the ongoing stupidity of the Mickey Doyle character and echoed Eli Thompson's questioning of his longevity.[2] Matt Fowler of IGN praised the unpredictability of Nucky's storyline, going against convention by having Nucky kill Rowland Smith rather than give him a job. He was critical of the decision to keep the massacre off screen, saying that viewers wanted to see the violence.[4] Cory Barker of TV.com criticized the Nucky plot as being incongruous with the preceding episode showing him as guilt ridden and ineffectual. He was again uninterested in Luciano's plot.[5]
Memorable Quotes
[
]
"Jake. I'm serious. You know I love you, eh? But you smell like a sardine's twat." -- Al Capone (to Jake Guzik)
"I'm gonna go take a leak. That's why beer's so profitable - we don't sell it. We only rent it." Jake Guzik (to Al Capone)
References
[
]
↑ Kondolojoy, Amanda (October 8, 2012). Sunday Cable Ratings: 'Steel Magnolias' Wins Night + 'Jeff Dunham: Minding Monsters', 'The Real Housewived of NJ', MLB, NASCAR & More. TV By The Numbers.
↑ 2.0 2.1 Wangberg, David (October 8, 2012). "Boardwalk Empire Season 3, Episode 4 'Blue Bell Boy'". Examiner.com
↑ 3.0 3.1 Rafferty, Michelle (October 8, 2012). "Boardwalk Empire review "Blue Bell Boy" episode 304. Paste Magazine
↑ 4.0 4.1 Fowler, Matt (October 7, 2012). "Boardwalk Empire 'Blue Bell Boy' review". IGN.com.
↑ 5.0 5.1 Barker, Cory (October 8, 2012). "Boardwalk Empire 'Blue Bell Boy' Review Any More Second Thoughts?". TV.com.
↑ 6.0 6.1 Murray, Noel (October 7, 2012). "Blue Bell Boy". AV Club.
↑ 7.0 7.1 Sepinwalll, Alan (October 8, 2012). "Review Boardwalk Empire 'Blue Bell Boy' Cellar's Market". Hitfix.com.
External Links
[
]