"Bone for Tuna" is the third episode of the third season of Boardwalk Empire, and the 27th episode overall. It was written by Co-Executive Producer Chris Haddock and was helmed by returning director Jeremy Podeswa. It premiered on 30 September 2012.
Nucky Thompson is troubled by nightmares of Jimmy Darmody as a boy. He is haunted by Jimmy's warning that he will be fine until he is alone. He desperately tries to phone Billie Kent in New York with no success. His lack of sleep causes him to miss a meeting with the diocese in advance of him receiving the St. Gregory's Award for his donations to the church. Margaret chastises Nucky for his inattention and uses the meeting to push for a private audience with the Bishop.
Nucky travels to Tabor Heights to end Gyp Rosetti's blockade of his shipments. He gives Rosetti a last shipment and entertains him in Atlantic City as a good will gesture. During their dinner Rosetti toasts "Buon Fortuna" and explains that it means good luck in Italian. Rosetti then visits The Artemis Club and Nucky makes his excuses to avoid Gillian Darmody. Rosetti asks Nucky to see him off from the warehouse. Gillian tries to extract more funds from her investor Charlie Luciano but he insists on seeing a return first. Luciano and Meyer Lansky try to complete a heroin deal, sending Benjamin Siegel as their delivery boy. He is attacked by Joe Masseria's men but Lansky steps in, killing one of them as Siegel wildly chases off the other.
Mickey Doyle publicly lies about having killed Manny Horvitz, using intimidation to back a hike in his liquor prices. His delivery boy mentions his claims to Richard Harrow while dropping off The Artemis Club's order. Richard kidnaps Mickey and brings him to Nucky, forcing Mickey to reveal his lie. Richard takes responsibility for the murder and clarifies that it was revenge for Angela Darmody.
In Chicago, Nelson Van Alden is humiliated by his sales colleague's prank. He admits to Sigrid that he has no faith in his sales ability and she seduces him with encouragement. He later accepts his co-workers explanation that it was an initiation and joins them at a speakeasy. He fears recognition when the place is raided by prohibition agents. He is allowed to pay his way free.
Nucky is troubled by hallucinations during the award ceremony, believing that he sees a young Jimmy among the choir, bleeding from the gunshot he inflicted. Margaret uses her meeting with the Bishop to force Dr. Landau to agree to a prenatal care clinic. Nucky fails to show up to the warehouse and has Owen deliver a message to Rosetti "Bone for Tuna", as an approximation of Rosetti's toast. Rosetti takes it as an insult and is incensed as he drives away. On his stop in Tabor Heights Sheriff Sickles also wishes him good luck and he flies into a rage. He douses the lawman with gasoline then burns him alive. Nucky disappears to New York to find Billie. He sleeps in her empty apartment. He awakens to think he is having another nightmare but is reassured when it is just her cooking breakfast.
Official synopsis
Edit
Disturbed by a recent nightmare and Billie's absence, Nucky reluctantly joins Margaret to receive a high honor from the Church. Meanwhile, Gyp makes a deal with Nucky for a onetime liquor shipment, though the mobster's longtime intentions remain very much up in the air. Van Alden regrets trying to socialize with his co-workers; Margaret takes her women's-clinic pitch to a higher authority; Lucky and Meyer protect their investments; Richard sets the record straight with Mickey, and with Nucky.[1]
Nucky has a disturbing nightmare involving a young Jimmy Darmody. He complains to a telephone operator that he has been trying to contact Billie Kent for hours. The operator repeats Jimmy's last words to him; warning him about running out of company. The boy in the dream is shot below his left eye, the same place where Nucky first shot Jimmy. Eddie wakes Nucky up and informs him that Margaret Thompson is on the phone. She admonishes Nucky for forgetting their meeting with Father Shocke regarding the St. Gregory's Award ceremony the next day. Margaret is forced to meet the priest alone and manipulates him into guaranteeing her an audience with Bishop Norman. Margaret also visits St. Theresa's Hospital to confirm medical director Robert Landau's attendance at the event.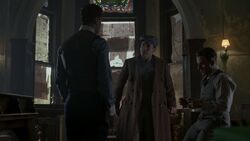 Gillian Darmody calls her business partner Charlie Luciano to ask for funds to repair the roof of her brothel, The Artemis Club. Luciano insists that he wants to see a return on his initial investment before giving her more money. He is more concerned with his burgeoning heroin distribution business, run from a New York card room. He and Meyer Lansky prepare Benjamin Siegel for a delivery in Harlem, hiding the narcotics in the lining of his coat and hat. Luciano is clear that Siegel should walk away from the deal if anything seems untoward by Siegel is quick to demonstrate that he has a gun ready. Luciano is annoyed at having to pay Masseria a percentage of their profits from this new venture but Lansky rationalizes that it is temporary. He argues that they should approach Masseria to appear like gentlemen.
Masseria is already aware of their operation and has a pair of his men assault Siegel as he leaves on his next delivery. They strike in sight of Luciano's headquarters, grabbing Siegel before he can shoot at them and announcing their allegiance. Lansky intervenes, shooting one of the thugs in the head. The other strongarm clings to the door of his getaway car as the driver pulls away. Siegel chases after the vehicle with no regard for his own safety. He runs down the street shooting at Masseria's man and vowing to kill him.
Nucky drives out to Tabor Heights to meet Gyp Rosetti and negotiate an end to his blockade of liquor shipments. He has the local Sheriff Victor Sickles accompany him to the meeting. Nucky criticizes Gyp's tendency to take offence so easily but offers a compromise; a final shipment of liquor as a goodwill gesture and a fully paid night in Atlantic City. Nucky awaits Gyp at Babette's Supper Club and reminisces about the dinner he held on the eve of prohibition and the lukewarm welcome he gave Jimmy as he returned from World War I. Their conversation is tense but Gyp tells Nucky that he wants to remain friends. He offers a toast to their shared good luck using the Italian phrase "A nostra buona fortuna". Gyp tries to convince Nucky to join him in a trip to Gillian's place. Nucky declines but drops him off, sharing an awkward look with Gillian on the steps. Gyp confirms that Nucky will be present when he picks up his shipment in the morning.
Mickey Doyle publicly pretends that he was responsible for the murder of Manny Horvitz in order to intimidate a rural customer named Elmer into paying a higher price. One of Mickey's delivery boys listens intently to the exchange. When he drops off a crate to The Artemis Club he repeats what he heard to Richard Harrow.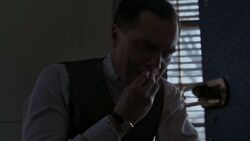 Nelson Van Alden continues to struggle with life on the run, posing as salesman George Mueller. His colleagues at the Farraday Electric Iron Company play a prank on him, covering his face and shirt with ink from a gag pen. He is mortified and tries to hide from his boss. At home that night, Sigrid comes to bed having washed the shirt, but says that he must get a new one as appearances are important. She encourages him to have more faith in his sales ability and they make love.
Nucky goes home in advance of the award ceremony. He is still unable to reach Billie in New York. He complains to Margaret about being unable to sleep but gets no sympathy.
Gyp demands a private audience with Gillian and questions her about her relationship with Nucky. He asserts that she is paying protection money to Nucky and offers sympathy for the obvious friction between them. She reveals Eli Thompson's betrayal of Nucky and the attempt he made on his brother's life, keeping her part in the scheme to herself.
Nucky is troubled by hallucinations of the boy from his dreams during the award ceremony. Afterwards he excuses himself to make another failed attempt to phone Billie. Margaret uses her private audience with the bishop to force the issue of prenatal care. She claims that it was Dr. Landau's idea and that she and Nucky support it. She manipulates Dr. Landau into agreeing (in front of the bishop) to open a clinic. She assures the bishop that they are mindful of Catholic dogma surrounding pregnancy.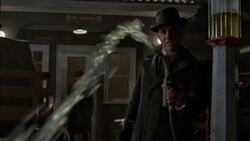 Gyp is disappointed when Nucky sends Owen with his excuses at the pickup. Gyp pointedly notes Eli's presence. When he bemoans the deal being curt, Eli says that he can christen him with a bottle of champagne. Owen delivers a good luck message from Nucky, garbling the pronunciation of the Italian as "Bone for Tuna". As Gyp leaves town he lets the perceived insult fester, convinced that Nucky is being sarcastic and intends him to fail. He stops in Tabor Heights to refuel and Sheriff Sickles drives out to meet him. Sickles wishes him good luck. Gyp believes he is being insulted again. He douses the lawman in gasoline and then sets him alight, burning him to death.
When Van Alden returns to work his colleagues brush off the prank as an initiation. They invite him for a drink at a speakeasy. He is uncomfortable and makes to leave when a woman spills her drink on him. He is trapped in the bar by the arrival of a team of Prohibition Agents. He fears recognition as a fugitive. The lead agent has no idea of his true identity, but knows his face as a neighbor, and lets him go after extorting a bribe.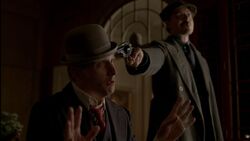 Richard breaks into Mickey's home. When Mickey arrives with a date Richard greets them with a gun in hand. He lets the woman go and kidnaps Mickey. He brings Doyle to the Ritz Carlton and presents him to Nucky. He forces Mickey to state that he has lied about killing Manny. Richard lets Mickey go and truthfully takes responsibility for the crime himself. He tells Nucky that he was avenging Angela's death and that he has no similar plans to avenge Jimmy because his friend was a soldier who fought and lost. Nucky resolves to go to New York. He lets himself into Billie's deserted apartment and falls asleep on her sofa. He awakens to think he is having another nightmare but is reassured when it is just Billie cooking breakfast.
Appearances
Edit
First appearances
Edit
The following named characters are introduced in this episode:
Father Shocke, the Catholic priest who arranges the St. Gregory's Award ceremony.
Elmer Borst, a farmer and bootlegger who is a customer of Mickey Doyle.
Bishop Norman, the Catholic bishop who presents Nucky Thompson with the award.
Masseria's man #1 - Shot in the head by Meyer Lansky.
Sheriff Victor Sickles - Doused in gasoline and burned to death by Gyp Rosetti.
Production
Edit
Co-Starring
Edit
Uncredited
Edit
Carousel Band Organ - "Oh Gee Oh Gosh Oh Golly, I'm In love" plays as Nucky fries bacon in front of a young boy he has just shot in his nightmare.
Victor Herbert - "Dance Of The Priestresses of Dagon" (from Camile Saint-Saëns' opera Samson et Dalila) plays as Gillian reminds Lucky of his partnership in her brothel.
Vince Giordano and the Nighthawks - "Way Down Yonder In New Orelans" plays as Nucky waits for Gyp and he has a flashback to the dawn of Prohibition.
Jaudas' Society Orchestra - "Blue Rose Waltz" plays as a young man who is delivering cases to the Artemis Club, where Richard works, tells Richard about Mickey's claim of killing Manny Horwitz.
Grace Paradise - "On Wings Of Song" plays as Evelyn and Undine entertain Gyp and Tonino.
Joseph Payne - "Christe Qui Lux With A Meane" plays as the Trenton Cathedral hosts an award ceremony.
American Boychoir - "Regina Coeli" plays as Nucky is distracted as he waits for Margaret and Cornelia to meet the Bishop.
The Cotton Pickers - "Hot Lips" plays as the speakeasy Van Alden is attending is raided by prohibition agents.
Isham Jones & His Orchestra - "My Honey's Lovin' Arms" plays as Nucky wakes up to find Billie cooking breakfast.
Neko Case - "Nobody Knows You When You're Down And Out" plays as Nucky wakes up to find Billie cooking breakfast.
Marketing
Edit
Reception
Edit
The episode drew 2.36 million US viewers.[2]
Matt Fowler of IGN.com praised Margaret's storyline as a return to depicting her as a sympathetic, devious character.[3] Cory Barker of TV.com criticized the dream sequences as a heavy handed means of exploring Nucky's psychological state.[4] Alan Sepinwall of Hitfix.com was concerned that the death of Jimmy has marginalized Harrow, who he praised as well played by Jack Huston.[5] David Wangberg of The Examiner.com felt that the episode picked up the pace after its slow burning predecessor.[6] Noel Murray of the AV Club felt that the theme was how an inattention to detail can be the downfall of large organizations. He was also not keen on the dream sequences but praised the choice for the flashback.[7] Michelle Rafferty of Paste Magazine felt that the episode had a horror movie theme, citing the dream sequences, vampire story, and Harrow's kidnapping of Mickey.[8]
Critics welcomed the focus on the effects of Jimmy's murder, as necessitated by his status as a major character.[4][6] Critics praised the contrast between Gyp as someone with no conscience over his crimes and Nucky as someone who was struggling to accept his violent actions.[4][5][8] Several critics felt that the seizing of power and respect was the theme of the episode.[3][4][5] Critics felt that the Luciano plot was inadequately prepared to be meaningful and criticized the reliance on Masseria's introduction in the second season.[3][4] There was praise for the scene between Nucky and Harrow.[3][4]
Memorable Quotes
Edit
Nucky Thompson (to Gyp Rosetti): "You'd find offense in a bouquet of flowers."
Nucky Thompson: "How many people have you killed?"

Richard Harrow: "Sixty-three."
Nucky Thompson: "You ever think about any of them?"
Richard Harrow: "You know the answer to that yourself."
References
Edit
↑ DarkUFO (August 23, 2012). Boardwalk Empire - Season 3 - September Episodes - Press Release. SpoilerTV.
↑ Bibel, Sara (October 2, 2012). Sunday Cable Ratings: 'Real Housewives of New Jersey' Wins Night, 'Dexter', 'Boardwalk Empire', 'Homeland', 'Breaking Amish', 'Long Island Medium' & More. TV by the Numbers.
↑ 3.0 3.1 3.2 3.3 Matt Fowler (October 1, 2012). Boardwalk Empire "Bone for Tuna" Review. IGN.com
↑ 4.0 4.1 4.2 4.3 4.4 4.5 Barker, Cory (October 1, 2012). Boardwalk Empire "Bone for Tuna" review "A Ghost Joins the Gangster Power Rankings". TV.com.
↑ 5.0 5.1 5.2 Sepinwall, Alan (September 30, 2012). Review Boardwalk Empire "Bone for Tuna" Even A Caveman Could Do It. HitFix.com.
↑ 6.0 6.1 Wangberg, David (September 30, 2012). Boardwalk Empire Season 3 Episode 3 recap. Examiner.com.
↑ Murray, Noel (September 30, 2012). "Bone for Tuna" review. The AV Club.
↑ 8.0 8.1 Rafferty, Michelle (October 1, 2012). Boardwalk Empire review "Bone for Tuna" Episode 303. Paste Magazine.
External Links
Edit