Brooklyn is one of the five boroughs in New York City and the second largest in area. It occupies the complete extension of Kings County which is also the westernmost county in Long Island. Originating in the 17th century as a separate town, it joined New York City in 1898.
As of 1920, the population of Brooklyn amounts to 2,018,356 most of whom are recent immigrants from Europe.
Al Capone is from Brooklyn. He describes it as 'cold' during his first meeting with Jimmy Darmody, and considers that it has helped him adapt to the also cold Chicago. ("Boardwalk Empire")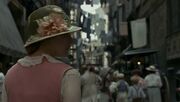 Margaret Schroeder's siblings (Eamonn, Nuala, Beth and Aylesh) moved from Ireland to the United States in 1917. They settled in Brooklyn. ("A Dangerous Maid")
Margaret visits her family in Brooklyn in June 1921, but she isn't as well received as expected. ("Peg of Old").
Season two appearances
21
Ourselves Alone
A Dangerous Maid
What Does the Bee Do?
Gimcrack & Bunkum
The Age of Reason
Peg of Old
Two Boats and a Lifeguard
Battle of the Century
Georgia Peaches
Under God's Power She Flourishes
To the Lost
Community content is available under
CC-BY-SA
unless otherwise noted.