Jurassic World: Dominion Dominates Fandom Wikis - The Loop
Play Sound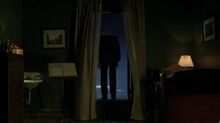 Edward Anselm "Eddie" Kessler (played by Anthony Laciura) is Nucky Thompson's kind-hearted and loyal assistant and valet. A German expatriate, he speaks English with a very thick accent. The character is based on the historical person Louie Kessel who was an assistant, bodyguard and driver to the real Nucky (Enoch L. Johnson).
Biography
[
]
Background
[
]
Prior to immigrating to the United States, Kessler was an assistant department store manager in Hannover, Germany. He was married and had two children. He had an affair with a woman who worked in the lingere department at the store and then absconded with her, leaving his wife and children. The woman ended the relationship soon after.
Kessler was the somewhat hapless assistant of current city treasurer Nucky Thompson. As a German immigrant, he performed his duties as required, but routinely misunderstood or was misunderstood by his boss, as well as others. There was often an unintended comical after-effect of his best-of-intentions. Eddie was always on call and ready to provide Nucky with anything he may want or need, be it as common as a chauffeur, or something much more sinister. Interestingly, it was revealed that he carries a pistol, and was a decent shot with it.
After entreating Nucky for more criminal responsibility, Kessler was picked up by federal agents Knox and Hoover at a train station. The agents turned him into an informant with the threat of deportation and the shame of returning to face his abandoned family should Kessler not come through on future requests.
Season 1
[
]
Main article: Eddie Kessler Season 1
Season 3
[
]
Main article: Eddie Kessler Season 3
Relationships
[
]
Memorable Quotes
[
]
"It must be a schwartze word."
Nucky: "You have pie in Germany, don't you?"

Eddie: "We have strudel."

"Nucky? Yes, he is nice. Mr. Thompson is a very nice man."
"You told me to knock in a manly fashion."
"I know what you mean. You want Schlampe."
(to a Guardsman making an anti-German comment) "Asshole."
"James Darmody is dead." ("The Pony")
"Nucky. Nucky... There is a delivery." ("A Man, A Plan...")
"I tend only to you. That is all I do. That is my life." ("Two Imposters")
"Mr. Thompson is part of everything. He's in the sky and sea. He's in the dreams of children at night. He is all that there is, forever." ("Resignation")
Appearances
[
]
Season four appearances
"New York Sour"
"Resignation"
"Acres of Diamonds"
"All In"
"Erlkonig"
"The North Star"
"William Wilson"
"The Old Ship of Zion"
"Marriage and Hunting"
"White Horse Pike"
"Havre De Grace"
"Farewell Daddy Blues"