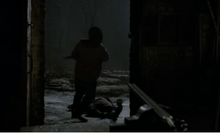 Elmer Borst, played by co-star Wade Mylius, is a minor character in the third season episode "Bone for Tuna". He buys liquor from Mickey Doyle.
Biography
[
]
Background
[
]
Elmer is a farmer and bootlegger in rural New Jersey.
Season 3
[
]
Elmer buys a shipment of 50 cases of liquor from Mickey Doyle. He expects to pay $50 per case, the price he had agreed with Mickey's recently deceased partner Manny Horvitz. Mickey publicly pretends that he was responsible for Manny's murder of in order to intimidate Elmer into paying $60 a case. Elmer hands over the additional $800 without argument. ("Bone for Tuna")
Relationships
[
]
Memorable Quotes
[
]
Appearances
[
]
Season three appearances
"Resolution"
"Spaghetti and Coffee"
"Bone for Tuna"
"Blue Bell Boy"
"You'd Be Surprised"
"Ging Gang Goolie"
"Sunday Best"
"The Pony"
"The Milkmaid's Lot"
"A Man, A Plan..."
"Two Imposters"
"Margate Sands"
Season four appearances
"New York Sour"
"Resignation"
"Acres of Diamonds"
"All In"
"Erlkonig"
"The North Star"
"William Wilson"
"The Old Ship of Zion"
"Marriage and Hunting"
"White Horse Pike"
"Havre De Grace"
"Farewell Daddy Blues"