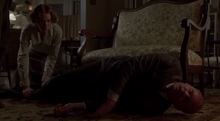 Emmett L. Coughlin, played by P.J. Brown, is a recurring character in the third season and debuts in the episode "Bone for Tuna". He is a Prohibition Agent working in Chicago, Illinois. He lives in nearby Cicero, Illinois. He leads a raid on Herkemeyer's speakeasy. He is killed by Nelson Van Alden because Van Alden fears he will expose him as a fugitive.
Biography
Edit
Fugitive former agent Nelson Van Alden is among the customers at Herkemeyer's when it is raided. He fears recognition as a fugitive, as he is posing as a salesman named George Mueller. Coughlin has no idea of his true identity, but knows his face as a neighbor and salesman. He lets him go after extorting a bribe. He is killed when he shows up at Van Alden's house to complain about an iron he bought, Van Alden mistaking the purpose of his visit. ("Bone for Tuna")
Relationships
Edit
Memorable Quotes
Edit
Appearances
Edit
Season three appearances
"Resolution"
"Spaghetti and Coffee"
"Bone for Tuna"
"Blue Bell Boy"
"You'd Be Surprised"
"Ging Gang Goolie"
"Sunday Best"
"The Pony"
"The Milkmaid's Lot"
"A Man, A Plan..."
"Two Imposters"
"Margate Sands"
Community content is available under
CC-BY-SA
unless otherwise noted.