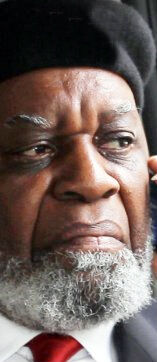 Franklin Ojeda Smith co-stars as Deacon Lemuel Cuffy in the first and second seasons. He also appeared in HBO series The Wire as a church minister. As Mr. King in the 20th Century Fox feature Won't Back Down and as Les in the Disney feature Invincible.
Season one appearances
Boardwalk Empire
The Ivory Tower
Broadway Limited
Anastasia
Nights in Ballygran
Family Limitation
Home
Hold Me in Paradise
Belle Femme
The Emerald City
Paris Green
A Return to Normalcy
Season two appearances
21
Ourselves Alone
A Dangerous Maid
What Does the Bee Do?
Gimcrack & Bunkum
The Age of Reason
Peg of Old
Two Boats and a Lifeguard
Battle of the Century
Georgia Peaches
Under God's Power She Flourishes
To the Lost
Born on the Sea Islands of South Carolina, Franklin and his siblings joined their mother in the 'Fort Apache' section of the South Bronx in 1954. A native Gullah speaker, Franklin says, "my dialect was so rich that I was put into classes with students who only spoke Spanish and the teacher spoke neither." Early on he met life long friends and was "adopted" into a Puerto Rican family (The Ojedas). In the South Bronx, he attended the same junior (P.S. 52) and high schools (Morris) as General Colin Powell. As a collegian at Hampton Institute in Virginia, Franklin excelled as a baseball player (he won a national batting championship) but more importantly, he found his grounding in academic life. He is a professor of sociology and has been at The Richard Stockton College of New Jersey for nearly 40 years. But he says, "I avoided my secret, inner passion for over forty-five years, then 12 years ago cancer ran me down. I had an epiphany. I said yes! Franklin explains that "back in the day the 'barb wire' was more visible" and early on he chose baseball over acting; then academia and not baseball. Among his principal Television roles are: Boardwalk Empire, Nurse Jackie, Rescue Me, The Wire, Law & Order, Cold Case, and Hack. He is excited about his role in the 20th Century Fox film - 'Won't Back Down' starring Viola Davis and Maggie Gyllenhaal.
Community content is available under
CC-BY-SA
unless otherwise noted.