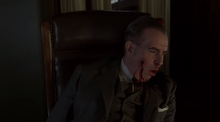 Franklin Werner appears in the episode New York Sour. He was killed by Richard Harrow under orders of Carl Billings.
Biography
Edit
Not much is known about Franklin other than that he was a business rival of Carl Billings.
Carl hires Richard to kill Franklin and Dolph Liebling Harrow kills two men, Archie and Bert Richard gets Franklin's business card from Bert and tracks Franklin to his office. Franklin's secretary comes to his door and asks him if he wanted anything, Werner says that he didn't need anything and the secretary reminds him to sign a card for a gift and tells Franklin goodnight and leaves. Franklin tells Richard that the gift was roller skates and asks him if he had children. Franklin reveals that he was a middleman for Milwaukee. Franklin offers Richard $5,000 in a safe if he would walk away, when Franklin tries to stand up Richard pulls out his silenced pistol. Franklin writes down the name and address of his boss on the post card and offers it to Richard. Richard shoots Franklin in the cheek with his silenced pistol when Franklin says "Why?" Richard shoots Franklin in the head with the pistol, killing Franklin. After killing Franklin Richard takes the card Franklin offered him and looks at Franklin's corpse before leaving the office.
Relationships
Edit
Archie: Employee (deceased)
Bert: Employee (deceased
Carl Billings: Business rival (deceased)
Richard Harrow: Murderer (deceased)
Appearances
Edit
Season four appearances
"New York Sour"
"Resignation"
"Acres of Diamonds"
"All In"
"Erlkonig"
"The North Star"
"William Wilson"
"The Old Ship of Zion"
"Marriage and Hunting"
"White Horse Pike"
"Havre De Grace"
"Farewell Daddy Blues"