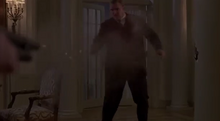 Gareth Murray (played by co-star Jack Ferry) is a recurring character in the third season. He is a large Irish-American bodyguard that works for Nucky Thompson. He first appeared in the episode "Ging Gang Goolie".
Murray is assigned to guard the Thompson family home after a fire destroys the greenhouse. After Owen Sleater tells Margaret Thompson that the fire was started by a vagrant intending to keep himself warm and not an enemy, she has Murray relieved. ("Ging Gang Goolie")
He is among the large number of bodyguards that come to Nucky's suite after he is nearly killed by a bomb planted on Babette's. He tells Margaret where she can find Owen. ("The Milkmaid's Lot")
Murray accompanies Margaret to St. Theresa's Hospital on June 21 1923. She tells him that she'd prefer if he waited by the car with Eddie Kessler but he says that he has orders to be with her at all times. She says that it would be embarrassing for both, and after consulting (non verbally) with Eddie, he concedes to walk ten paces behind her and wait out of the prenatal care classroom while she talks to Sister Agnes and Dr. Mason in private. ("A Man, A Plan...")
He returns to the suite early in the next day after Joe Masseria sends Owen's body back in a crate. He wakes up other bodyguard that has fallen asleep and orders him and two others to take the box to Mickey Doyle's warehouse while it is decided what to do with it, with he remaining in the suite to guard Nucky. After exiting through the service elevator, however, the three men are killed by Gyp Rosetti's gunmen, who then ride the elevator back to Nucky's suite. Murray notices them but he is killed with a blast from a Winchester Model 1912 shotgun before he can use his own weapon. ("Two Imposters")
Community content is available under
CC-BY-SA
unless otherwise noted.