We're Getting Mutants in the MCU - The Loop
Play Sound
Giaconda Rosetti, played by co-star Ashlie Atkinson, is a supporting character in the third season of Boardwalk Empire. She is married to New York City gangster Gyp Rosetti.
Biography
[
]
Background
[
]
Giaconda is a domineering woman that does not fear her husband, who melts in her presence. They live in a small apartment in New York with their two teenage daughters and Giaconda's mother, Mafalda.("Sunday Best")
Season 3
[
]
While trying to reach a compromise with Nucky Thompson in Tabor Heights, New Jersey in early January 1923, Gyp mentions that he plans to visit Gillian Darmody's brothel because he has not seen his wife in weeks. ("Bone for Tuna")
Gyp flees to the family apartment after Benny Siegel tries to assassinate him. Tonino comes to report their uneasy situation on Easter Sunday, but Giaconda interrupts their meeting by repeatedly knocking on the door with violence and yelling that the meal is getting cold. Gyp yells from the other side that they should start without him but Giaconda responds that if they do so he'll be angered, calling him a "big baby".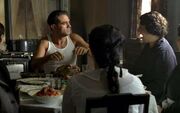 Gyp opens the door and takes the presiding seat next to the capozzelli (roasted sheep head). As Mafalda and the girls take seat, Giaconda criticizes him for wearing a sleeveless shirt and asks if they are not good enough for the suit. Gyp says that it is a business suit, not a dinner suit. Mafalda makes fun of Gyp and Giaconda laughs along with the other women. Tonino announces that he's leaving and Giaconda, annoyed, remarks that she made extra food for him. After looking at Gyp Tonino agrees to sit down and eat with the family. Gyp tells them to start but Giaconda hits him and asks if they are "cats in an alley". Gyp then crosses himself and makes an oration in Italian. Giaconda and the other women cross themselves too. ("Sunday Best")
In June, Gyp fails in his attempt to take Atlantic City from Nucky and his gang is massacred by Richard Harrow. Gyp suggests Tonino and the two other survivors to move West and take over some small town, and jokes that maybe it will without telling his wife. However, Tonino soon murders Gyp as part of a deal stricken with Nucky. ("Margate Sands")
Relationships
[
]
Memorable Quotes
[
]
"Are we not good enough for the suit?"
"What are we, cats in an alley?"
Appearances
[
]
Season three appearances
"Resolution"
"Spaghetti and Coffee"
"Bone for Tuna"
"Blue Bell Boy"
"You'd Be Surprised"
"Ging Gang Goolie"
"Sunday Best"
"The Pony"
"The Milkmaid's Lot"
"A Man, A Plan..."
"Two Imposters"
"Margate Sands"