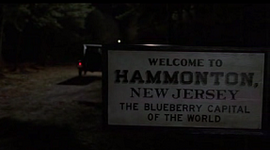 Hammonton is a town near the northern border of Atlantic County, New Jersey. It is on the road between Philadelphia and Atlantic City.
Within the show Boardwalk Empire, Hammonton's city limit is indicated by a welcoming sign identifying it as "The blueberry capital of the world".
History
[
]
Hammonton was settled in 1812 and named after early settler John Hammond Coffin, with the 'd' disappearing over time. It was incorporated as a town in March 5, 1866.
Season 1
[
]
Jimmy Darmody and Al Capone plan an ambush on a convoy of illegal alcohol intended for Arnold Rothstein as it passes through Hammonton, New Jersey while en route between Atlantic City and New York City, on January 17 1920 (mere hours after the enactment of Prohibition in the United States). The hit, originally intended to be bloodless, goes awry and ends with four dead, including the bootleggers leader Davey Murdoch. This hijacking in Hammonton will be nicknamed the Woods Massacre by the press of Atlantic County, and puts pressure on Atlantic County Treasurer Nucky Thompson and his brother Sheriff Eli Thompson to solve it before it affects the year's tourist season or damages their changes for re-election in November. ("Boardwalk Empire")
Unknown to the perpetrators, one of the members of the convoy, Simon, survives and stumbles upon George Baxter and his fling Claudia as they stop near the city limit of Hammonton for a quick sexual encounter days later. They take Simon to a hospital in Pennsylvania where everyone is surprised of his endurance.("The Ivory Tower")