Earl "Hymie" Weiss, played by co-star Will Janowitz, is a Chicago gangster. The character debuted in the 3rd season's 8th episode "The Pony". The character is based on the historical figure of the same name.
Background
[
]
Hymie Weiss is a Polish bootlegger, based in Chicago and second in command to Dean O'Banion for the North Side Gang. He was born Henry Earl J. Wojciechowski in 1898.
He is Roman Catholic, but often mistaken for being Jewish, because of his nickname.
Season 3
[
]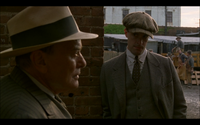 Hymie Weiss accompanies Dean O'Banion to Nelson Van Alden to demonstrate him how to distill whiskey in his apartment. Weiss reminds Nelson that this could be a "nice little sidelined" to earn some cash, but O'Banion instead reminds him that he doesn't belong to that group since he is in fact working of a debt for getting rid of Emmett Coughlin's body.
The following day, Weiss and O'Banion together with Van Alden go to meet with Al Capone and Torrio to discuss their deceased employee Joe Miller that Capone viciously beat to death at a speakeasy after he insulted Jake Guzik.
Season 4
[
]
Relations 
[
]
Appearances
[
]
Season three appearances
"Resolution"
"Spaghetti and Coffee"
"Bone for Tuna"
"Blue Bell Boy"
"You'd Be Surprised"
"Ging Gang Goolie"
"Sunday Best"
"The Pony"
"The Milkmaid's Lot"
"A Man, A Plan..."
"Two Imposters"
"Margate Sands"