We're Getting Mutants in the MCU - The Loop
Play Sound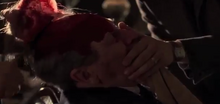 Jackson Parkhurst is an Atlantic City veteran and war profiteer. Parkhurst is played by Richard Easton. He is part of a group of rich investors who back Commodore Louis Kaestner in his attempted political coup against Atlantic County Treasurer Nucky Thompson.
Character Biography
[
]
In his early adulthood Parkhurst served with the 9th Infantry Division of the US Army. On August 2, 1867 Parkhurst participated in the Wagon Box Fight, a battle in Red Cloud's War. Parkhurst and approximately 30 others fought 2000 Native American Indians led by Chief Red Cloud. Parkhurst was the bugler for the 9th Infantry contingent. Armed with the new Springfield breach loading rifles, which significantly reduced reloading times, the 9th Infantry massacred the Indians with no casualties. The Indians en masse attack strategy failed because it was dependent on the long reloading times of the muzzle loading weapons the army had used prior to the introduction of the Springfield. ("Gimcrack & Bunkum")
During World War I Parkhurst supplied the US Army with chipped beef. He made millions of dollars during the conflict. In the 1920s Parkhurst is the owner of a large home in Atlantic City. ("Gimcrack & Bunkum")
Season 2
[
]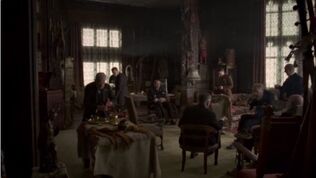 On Memorial Day 1921 Parkhurst attends the ceremony for the beginning of construction of the Atlantic City War Memorial and receives a position of honour as part of the Memorial Committee. Later that day he hosts a meeting between the conspirators in the attempted coup against Atlantic County Treasurer Nucky Thompson. Parkhurst is eager to discuss business and outraged at the destruction (by bombing) of their alcohol stockpile. When The Commodore does not attend (unbeknownst to Parkhurst because he has had a stroke) and Jimmy Darmody tries to placate the group Parkhurst becomes enraged at a perceived lack of respect and strikes Darmody on the forehead with his cane, breaking the skin. Darmody leaves the meeting.
Later that day Parkhurst is marvelling at a new acquisition - a Sioux breech cloth. He shows the item to his butler Alexander when he comes to offer cocoa. When Alexander leaves Parkhurst is surprised by Darmody and Richard Harrow. Darmody pins Parkhurst in his wheelchair using his own cane. Harrow takes out a knife and scalps Parkhurst. ("Gimcrack & Bunkum")
Relationships
[
]
Appearance
[
]
Season two appearances
21
Ourselves Alone
A Dangerous Maid
What Does the Bee Do?
Gimcrack & Bunkum
The Age of Reason
Peg of Old
Two Boats and a Lifeguard
Battle of the Century
Georgia Peaches
Under God's Power She Flourishes
To the Lost