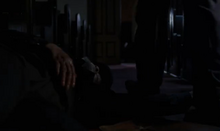 Lemuel Cuffy (played by Franklin Ojeda Smith) is a Deacon of the Shiloh Baptist Church in the Northside. He is a supporter of Chalky White as a community leader. Cuffy witnesses Prohibition Agent Nelson Van Alden drowning his partner Eric Sebso.
Biography
[
]
Background
[
]
Season 1
[
]
Cuffy witnesses Nelson Van Alden's murder of Eric Sebso during his week of miracles event but he is afraid to come forward because he knows Van Alden is a Prohibition Agent.
Season 2
[
]
During a city wide strike by African American workers one of Cuffy's parishioners (Harlan) gets temporary work as a valet for Nucky Thompson. Harlan tells Nucky about Van Alden's murder of Sebso when he learns that Van Alden is going to testify against Nucky. Harlan puts Cuffy in touch with Nucky's lawyer Bill Fallon and they approach Assistant US Attorney Esther Randolph together. Cuffy is present when she tries to have Van Alden arrested he shoots a federal investigator and flees. ("Under God's Power She Flourishes")
Relationships
[
]
Memorable Quotes
[
]
"It is joy for the just to do justice." (Proverbs 21:15, recited to Van Alden in "Under God's Power She Flourishes")
Appearances
[
]
Season one appearances
Boardwalk Empire
The Ivory Tower
Broadway Limited
Anastasia
Nights in Ballygran
Family Limitation
Home
Hold Me in Paradise
Belle Femme
The Emerald City
Paris Green
A Return to Normalcy
Season four appearances
"New York Sour"
"Resignation"
"Acres of Diamonds"
"All In"
"Erlkonig"
"The North Star"
"William Wilson"
"The Old Ship of Zion"
"Marriage and Hunting"
"White Horse Pike"
"Havre De Grace"
"Farewell Daddy Blues"