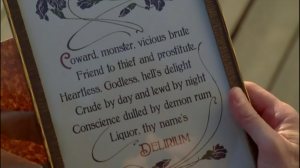 Ode to Liquor
is a fictional anti-alcoholic poem that appears in the pilot episode, "
Boardwalk Empire
".
Transcription
Edit
Coward, monster, vicious brute
Friend to thief and prostitute.
Heartless, Godless, hell's delight
Crude by day and lewd by night
Conscience dulled by demon rum
Liquor, thy name's
Delirium

Mrs. McGarry reads the poem before the Women's Temperance League of Atlantic City on the night of January 16 1920. Shortly after, she introduces Atlantic County Treasurer Nucky Thompson to her audience, who asks Mrs. McGarry for a copy of the poem as part of the act.
Three days later, Mrs. McGarry finds Nucky in the Atlantic City Boardwalk and informs him that League member Margaret Schroeder has lost the child she was expecting and is hospitalized after receiving a brutal beating from her husband, Hans Schroeder. She also hands Nucky the copy of the poem he asked for, framed and decorated. Nucky takes a look at the poem and throws it in a trash bin out of McGarry's sight.
Appearances
Edit
Season one appearances
Boardwalk Empire
The Ivory Tower
Broadway Limited
Anastasia
Nights in Ballygran
Family Limitation
Home
Hold Me in Paradise
Belle Femme
The Emerald City
Paris Green
A Return to Normalcy
Community content is available under
CC-BY-SA
unless otherwise noted.