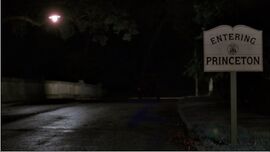 Princeton is a community located in Mercer County, New Jersey. It is the location of Princeton University, which has been sited in the community since 1756. It lies approximately 80 miles North of Atlantic City. Princeton is roughly equidistant from both New York City and Philadelphia. Since the nineteenth century, it has been connected by rail to both of these cities by the Princeton Branch rail line to the nearby Princeton Junction Station.
The first inhabitants of the Princeton area were the Lenni Lenape Indians. Europeans founded the settlement in the latter part of the 17th century. The first European to find his home in the boundaries of the future town was Henry Greenland. He built his house in 1683 along with a Tavern. It was in this drinking hole that representatives of West and East Jersey met to set boundaries for the location of the township in the State.
Originally, Princeton was known only as part of nearby Stony Brook. Mr. James Leonard was the first to refer to the town as Prince-town, when describing the location of his large estate in his diary. The town had been referred to in a variety of ways since, including: Princetown, Prince's Town and finally Princeton. The town is considered to be named after William, Prince of Orange. An alternate theory suggests that the name came from a large land owner named Henry Prince. It is more likely for the settlement to be named after a prince based on the fact that three nearby towns are named similarly: Kingston, Queenstown (Later named Pennington) and Princessville.
When Richard Stockton, one of the founders of the township, died in 1709 he left his estate to his sons, which helped expand property and population. Based on the 1880 census, the population of the town was only 3,209 (not including students). Local population has expanded from the nineteenth century.
Aside from housing the University of the same name, the settlement suffered the revolutionary Battle of Princeton on its soil. After the victory in 1776, the town hosted the first Legislature under the State Constitution of New Jersey to decide the State's seal, Governor and organization of its government. In addition, two of the original signers of the Declaration of Independence—Richard Stockton and John Witherspoon lived in Princeton. Princetonians honored their citizen's legacy by naming two streets in the downtown area after them. Bainbridge House house was once used for a meeting of Continental Congress in 1783, as a general office and as the Princeton Public Library. The House is the property of Princeton University.
Jimmy Darmody was enrolled at Princeton University prior to joining the US Army during World War I. He did not complete his studies after the war.
Jimmy Darmody returns to Princeton aiming to sell bootleg liquor there.
Community content is available under
CC-BY-SA
unless otherwise noted.