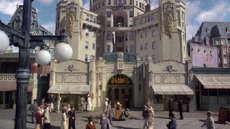 The Ritz Carlton Hotel is a location in Atlantic City, New Jersey. The hotel is right on the Atlantic City boardwalk. Atlantic County Treasurer Nucky Thompson is a major client and rents the entire eighth floor suite. He uses the hotel as an office, meeting place and sometimes his home. His assistant Eddie Kessler lives in the suite. The lobby of the hotel has small units that are rented out to shopkeepers. One of these is let to Isabelle Jeunet who maintains La Belle Femme dress shop in the space. Famous visitors to the hotel include Atlantic City Mayor Edward Bader, World Heavyweight Boxing Champion Jack Dempsey, entertainer Eddie Cantor, Jersey City Mayor Frank Hague and New York gambling legend Arnold Rothstein.
In July 1921 the hotel sees the beginning of civil unrest amongst the African American working class community of Atlantic City. Agitator Dunn Purnsley gets a job as a dishwasher and provokes a strike by the kitchen staff which expands to include the whole city. ("Battle of the Century") Strikers continue to demonstrate outside the hotel throughout July and it is brought to a standstill by the action. ("Georgia Peaches")
Staff
Artistic License
In real life, the Ritz-Carlton Atlantic City Hotel opened on June 21, 1921. However, in the TV show the hotel is already operative by mid-January 1920 and seems to have been working for years.