Jurassic World: Dominion Dominates Fandom Wikis - The Loop
Play Sound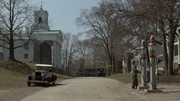 Tabor Heights is a small fictional village in New Jersey and a secondary location in the third season of Boardwalk Empire, when it is seized by Gyp Rosetti as part of his conflict with Nucky Thompson. Scenes set in Tabor Heights are filmed in the Historic Richmond Town of Staten Island, New York.[1]
According to Terence Winter, the Tabor Heights plotline was inspired by real life incidents that happened in the equally small Methodist retirement of Atlantic Highlands, NJ in 1923.[2]
Characteristics
[
]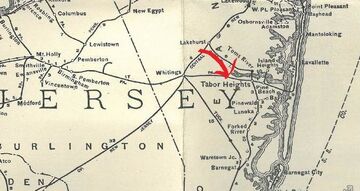 Tabor Heights is situated between 60[3] and 70 miles to the north of Atlantic City, roughly halfway in the coastal road to New York City, and just south of Toms River, in Ocean County, New Jersey.[4]
The population is Caucasian, rural, conservative and Protestant religious. A Bible Camp Week is scheduled to take place there between July 29 and August 7, 1923. Although both Sheriff Victor Sickles and his deputy, Ramsey, are corrupt and get payments from out of town bootleggers in exchange for letting them pass through and refill gas in Tabor Heights, the civilian population maintains Prohibition and alcohol can't be found in local stores and dining places.[5]
For bootleggers, the value of Tabor Heights resides in the fact that, until the new highway to New York scheduled in the Road Appropriation Bill is completed in 1925,[6] most traffic passes through Tabor Heights, and coincidentally the last gas station before reaching Staten Island is also placed there.[7] If someone takes over the village and blockades the coastal road, then alcohol from Atlantic City can only reach New York by sea or through the longer, more dangerous dirt roads crossing the Pine Barrens.[8] The volume of alcohol demanded by Arnold Rothstein in each shipment (8 vehicles, including trucks) renders this alternate route impracticable, at least during the early part of the year when the roads are covered in ice and later mud.[9]
Naming
[
]
The name Tabor Heights is a likely reference to the Taborites, a Protestant movement originating in Renaissance Bohemia, modern Czech Republic. Tabor Heights is also reminiscent of Mount Tabor in the Galilee (where Jesus delivered the Sermon on the Mount) and which overlooks the Sea of Galilee (or, Yam Kinneret in Hebrew, which also gives its name to the Kinneret Lodge in Tabor Heights).
History
[
]
Season 3
[
]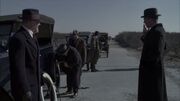 Gyp Rosetti and his men stop near Tabor Heights after suffering a flat tire, while on the way to Atlantic City on December 31, 1922. The wheel rim bolts are rusted and the men have trouble removing them. A local man, Johansen, stops by with his pet dog and offers to help saying that he has 3-in-1 in his car. Rosetti says he doesn't know what 3-in-1 is and Johansen replies that it is oil, asking what else could it be. As Johansen applies the oil, Rosetti says that it could have been a tool. Johansen denies and Rosetti continues that it could still have been a dissolvent or something else; he says that when he lived in his hometown of Sperlinga, Sicily they had oil there, not "3-in-1". Johansen clarifies that he didn't mean to insult him and Rosetti tells him to relax, saying that he was just joking. As Johansen prepares to go back to the car, he calls his dog, Regina. Rosetti pets the dog, repeating its name in an Italian accent. Without realizing it, Johansen insult's Gyp's intelligence a second time by telling him that it means "Queen", despite it being also the same in Italian. Rosetti says goodbye and as soon as Johansen has his back to Gyp he attacks him with a tire iron, killing him, and takes the dog with him to Atlantic City. 
After learning that Gyp Rosetti had stopped because of a flat tire, Nucky Thompson - who had read about Johansen's body being found in the afternoon edition of the paper - asks Rosetti if it was near Tabor Heights. ("Resolution")
Appearances
[
]
References
[
]