"To the Lost" is the twelfth episode of Season 2 of Boardwalk Empire, and the 24th episode overall. It was written by executive producer Terence Winter and directed by executive producer Tim Van Patten. It aired on 11 December 2011.
Plot
[
]
Synopsis
[
]
Jimmy Darmody attempts to make amends for his betrayal of Nucky Thompson, despite knowing that Nucky will never forgive him. He is aided by Richard Harrow. They end the African American workers strike by kidnapping the Ku Klux Klan members responsible for the raid on Chalky White's warehouse and delivering them to Chalky along with compensation for the families of the men killed in the raid. Jimmy asks Chalky to arrange a meeting with Nucky. At the meeting he says that he wants to make things right, explains his reasons for the betrayal and asks what he can do to help Nucky. Nucky demands insight into the assassination attempt and Jimmy lays the blame on Eli Thompson. Nucky asks him to sabotage the legal case against him which includes charges of election rigging and the murder of Hans Schroeder. Jimmy settles The Commodore's estate, destroying his will to ensure that he will inherit it. He is careful to check that it will pass to his son in the event of his death. Jimmy fails to convince his co-conspirators to implicate Eli instead of Nucky. He has Harrow murder Jim Neary on the eve of the trial. They force Neary to write a statement implicating Eli at gunpoint before staging his death as a suicide.
Mickey Doyle brokers a meeting between Nucky and Manny Horvitz; Manny suggests they partner up and kill Jimmy. Nucky is concerned that Margaret Schroeder will testify against him. Margaret meets with the prosecutor Esther Randolph and weighs her options. Nucky proposes to Margaret, admitting that he is asking her to save his life. He continues to care for her daughter Emily, who is still recovering from Polio. She agrees to marry him prior to the trial.
The judge grants a mistrial given the death of Neary and the recanting of other witness statements. Nucky is further elated when congress announces their intention to supply the road appropriations funding he needs to profit from his investment in a tract of land between Atlantic City and Philadelphia. He asks Margaret to sign the land back over to him now that the threat of asset forfeiture has been lifted. Jimmy spends a day taking his son to the beach and drinking with Harrow while recounting war stories. Nucky approaches Eli and convinces him to plead guilty to the charges with the promise of minimal prison time, preventing them from resurfacing. Eli lies to Nucky, claiming that he was not involved in planning the assassination attempt. Lucky Luciano approaches Arnold Rothstein regarding heroin distribution. Nucky calls during the meeting to ask Rothstein for permission to kill Manny but says that he is uncertain that he will do so. Nucky calls Jimmy and arranges to meet him at the Atlantic City War Memorial, claiming to have captured Manny. Jimmy insists on going alone and unarmed to the meeting, correctly predicting that Nucky plans to kill him. He is accepting of his fate and tries to talk Nucky through the process. Nucky shoots him twice in the face.
Nucky lies to Margaret about his whereabouts and his involvement in the murder. He drives out to meet his fellow land buyers to celebrate their new fortune. Margaret donates the land to the Catholic Church.
Recap
[
]
Main article: To the Lost recap
A detailed recap of the episode scene by scene.
Appearances
[
]
First Appearances
[
]
None.
Deaths
[
]
Jimmy Darmody - Shot by Nucky Thompson.
Jim Neary - Shot by Richard Harrow under orders of Nucky Thompson.

Klansman Victim 1

- Shot by Jimmy Darmody.

Klansman Victim 2

- Shot by Richard Harrow.
Herb Crocker - Beaten to death by Chalky White's men.
Dick Heatherton - Beaten to death by Chalky's men.
Charlie - Beaten to death by Chalky's men.
References
[
]
Production
[
]
Cast
[
]
Starring

[

]

Guest Starring

[

]
Co-Starring
[
]
Music
[
]
APM Studio Musician - "The Synagogue Cantor (Chazzan)" plays as Nucky and Manny meet in the synagogue basement.

Enrico Caruso

- "Ave Maria" plays as Jimmy holds court at The Commodore's house, first meeting with Whitlock then the politicians.

Erica Morini

- "Romance in G Major, Op. 26" plays as Margaret tells Nucky to come with her to church.

Seymour Lipkin

- "Moments Musicaux, D. 780, Op. 94, No. 3" plays as the montage unfolds over Randolph practising her opening statement.
Seymor Lipkin - "Impromptu, D. 935, Op. 142, No. 1" plays as the montage continues to the marriage and Neary's gunpoint confession.
APM studio musician - "Drops of Brandy" plays as Jimmy takes Tommy for a pony ride.
APM studio musician - Off She Goes plays as Jimmy takes Tommy for a Pony ride.
APM studio musician - "Old Irish Solo" plays as Jimmy takes Tommy for a pony ride

Christian Hommel

,

Cologne Chamber orchestra

&

Helmut Müller-Brühl

- "Oboe Concerto in G minor: II. Largo" plays as Rothstein's sequence in New York unfolds with him learning about heroin and talking to Nucky on the phone.
Washington accompanied by

Vince Giordano and the Nighthawks

- "Ma! He's Making Eyes at Me" plays as Jimmy and Richard drink & talk.
Michael Pitt - "Over There" sung by Jimmy while he and Richard drink and Talk.

Hungarian State Opera Chorus

,

Pier Giorgio Morandi

-conductor - "Quattro Pezzi Sacri: Ave Maria" plays as Trembling soldiers await a signal; the whistle blows.
Vince Giordano and the Nighthawks - "Look for the Silver Lining" plays as Nucky & the boys celebrate the future, Margaret signs the deed over of land over to the church.

Henry Burr and the Peerless Quartet

- "Over There" played as end credits.
Marketing
[
]
The preview for this episode was released on 4 December 2011 and aired immediately after the preceding episode "Under God's Power She Flourishes".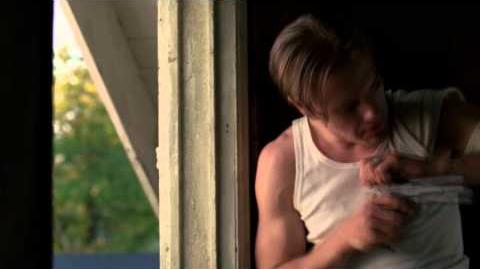 On 8 December 2011 HBO released two preview clips from the episode. The first features a scene between Arnold Rothstein, Lucky Luciano and Meyer Lansky.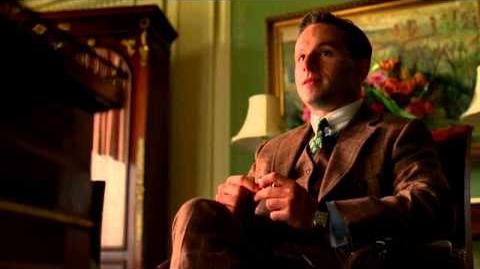 The seconds shows Margaret Schroeder meeting with Esther Randolph:
Memorable Quotes
[
]
External links
[
]