Tunney, played by co-star Ed Heavey, is a recurring character in the third season. He debuts in the episode "Resolution".
He is employed by Atlantic City crime boss Nucky Thompson as a bodyguard.
He accompanies Nucky to the interrogation of Nate, helping himself to the coffee and donuts Nucky provides. He shadows Nucky on his way back to the Ritz Carlton Hotel for his meeting with Attorney General Harry Daugherty. He later prevents the kitchen staff from coming downstairs during Nucky's meeting with his bootlegging customers at the New Year's Eve party. ("Resolution")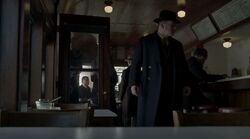 He drives Nucky out to Tabor Heights to meet Gyp Rosetti and negotiate an end to his blockade of liquor shipments on January 8, 1923. Nucky has the local Sheriff Victor Sickles accompany him to the meeting. Nucky's bodyguard sits at the counter with the police during the meeting. Nucky criticizes Gyp's tendency to take offence so easily but offers a compromise; a final shipment of free liquor as a goodwill gesture and a fully paid night in Atlantic City. He guards Nucky during his dinner with Gyp at Babette's Supper Club that evening. He announces Gyp's arrival, interrupting Nucky's reminiscences. ("Bone for Tuna")
Nucky orders Owen to find the thief Rowland Smith. They get an address for Smith's hideout from Agent Stan Sawicki. Tunney takes Nucky to the backwoods house. He breaks down the door so they can search the place. Nucky leaves Owen and one of his men to wait for Smith. They capture him and hold him at his hideout. Tunney brings Nucky back to question the kid and Tunney waits outside with Owen's man. The hideout is raided by Philadelphia Prohibition Agents. They murder Owen's man and Tunney without provocation. ("Blue Bell Boy")
Season three appearances
"Resolution" *
"Spaghetti and Coffee"
"Bone for Tuna"
"Blue Bell Boy"
"You'd Be Surprised"
"Ging Gang Goolie"
"Sunday Best"
"The Pony"
"The Milkmaid's Lot"
"A Man, A Plan..."
"Two Imposters"
"Margate Sands"
* - Uncredited appearance
Community content is available under
CC-BY-SA
unless otherwise noted.