The Winchester Model 1912 (Model 12 or M12 for short) is one of the most common weapons in Boardwalk Empire. It is an internal-hammer pump-action shotgun with external tube magazine, and there are both long and short-barreled ("riot") versions that are better respectively for offense and defense. A popular shotgun in the United States during the first half of the 20th century, it was used by the military, civilians, criminals and law enforcement alike.
History
[
]
Season 1
[
]
Some of Davey Murdoch's men carry Winchesters while they unload unload liquor for Arnold Rothstein, as do Nelson Van Alden's agents when they raid the Berns' Funeral Home while the Hammonton hijacking is underway. ("Boardwalk Empire")
Two federal agents also carry Winchesters when Van Alden raids the Order of Ancient Celts Saint Patrick's Day dinner. ("Nights in Ballygran")
Season 2
[
]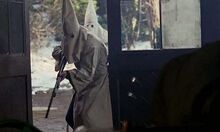 The Ku Klux Klan attacks Chalky White's warehouse with a machine gun under orders of The Commodore in January 1921. When the gun jams, two klansmen enter the place armed with Winchesters to retrieve their objective. One of them finds Chalky on the ground and points the gun to his face, but is shot in an arm by a woman armed with a double-barreled shotgun befor he can kill Chalky. His companion then shoots the woman with his own rifle, and after a shooting with another man armed with a revolver he helps the injured klansman get out, abandoning the latter's rifle on the ground. Chalky, however, ignores it and picks a M1917 Enfield from his own injured guard to shoot back at the klansmen as they are leaving. ("21")
Richard Harrow uses a Winchester 1912 when he attempts to commit suicide in the Pine Barrens on late May. He puts the muzzle in his mouth but before he pulls the trigger, a feral dog known as "Old Soldier" steals his tin mask and he chooses to run after to retrieve it. Found by hunters Pete and Glenmore, he claims that the rifle is for hunting but he does not fool them. ("Gimcrack and Bunkum")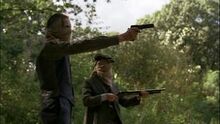 Richard carries a Winchester again, this time of the 'riot' version, when he and Jimmy Darmody held a Ku Klux Klan rally hostage in August to demand the three klansmen that tried to kill Chalky. As the klansmen remain silent at first, Richard shoots one of them in the chest and tells the rest that they have five seconds to answer.
When Nucky sets up Jimmy to be killed, he has Eli point a rifle to his back which is also a Winchester riot. He remains in his position until Nucky shoots Jimmy for the first time. ("To the Lost")
Season 3
[
]
Appearances
[
]
Season one appearances
Boardwalk Empire
The Ivory Tower
Broadway Limited
Anastasia
Nights in Ballygran
Family Limitation
Home
Hold Me in Paradise
Belle Femme
The Emerald City
Paris Green
A Return to Normalcy
Season two appearances
21
Ourselves Alone
A Dangerous Maid
What Does the Bee Do?
Gimcrack & Bunkum
The Age of Reason
Peg of Old
Two Boats and a Lifeguard
Battle of the Century
Georgia Peaches
Under God's Power She Flourishes
To the Lost
External links
[
]